106th Annual Meeting of the German Zoological Society
From Sept. 13th - 16th, over 500 academics met at the LMU Munich
16.09.2013
The 106th Annual Meeting of the German Zoological Society took place at the Ludwig-Maximilians-Universität from September 13th to 16th 2013 in the vibrant city of Munich.
The LMU Munich is one of the leading research universities in Europe, with a more than 500-year-long tradition. The conference venue was at the historic university main building right in the heart of Munich.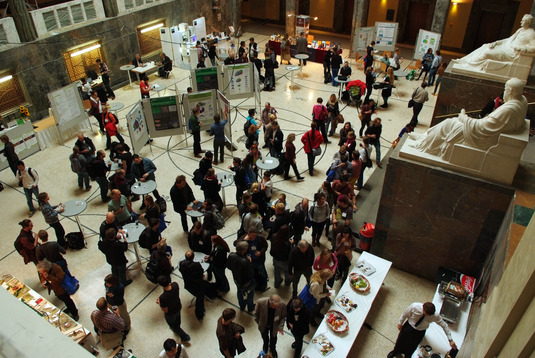 Special Guests
Hans Fricke | LMU Munich; MPI for Marine Microbiology, Bremen; Leibniz Institute of Marine Sciences, Kiel
Confirmed Plenary Speakers & Invited Talks
Benedikt Grothe | LMU Munich, GER
Thomas Bosch | Universität Kiel, GER
Michael Brecht | Humboldt Universität Berlin, GER
David Attwell | University College of London, Neuroscience, London, UK
Jennifer Clack | University Museum of Zoology, Cambridge, UK
Michael Dawson | School of Natural Sciences, Univ. of California, Merced, USA
Susanne Foitzik | Johannes Gutenberg Universität Mainz, GER
Daniela Nicastro | Brandeis University, Boston, USA
Diethard Tautz | Max-Planck-Institut f. Evolutionsbiologie, Plön, GER
More abstract booklet and further information available at the DZG conference website.